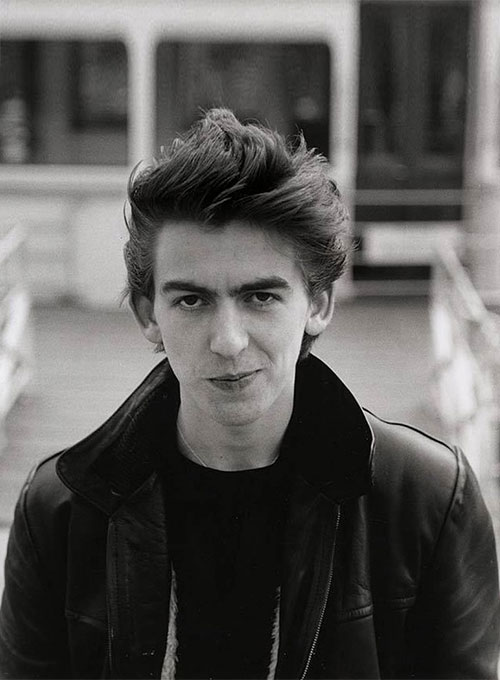 I recently saw George Harrison: Living in the Material World, Martin Scorsese's lovely and comprehensive documentary about the former Beatle, and it inspired me to investigate Harrison's songbook at length. Working in the shadow of John Lennon and Paul McCartney throughout his tenure with The Beatles, Harrison nevertheless established an indelible identity for himself within the band – he was the quiet, droll, spiritual one – that carried over into his noteworthy solo career. His catalogue is full of graceful knockouts that have earwormed their way into my daily life as of late, and the following five tracks exemplify why.
"Taxman" (1966)
Not the first Harrison song to grace a Beatles album, but maybe the first Beatles classic written by him. Outraged at the time by England's 95% supertax on top earners (which included him), Harrison penned this satirical rebuke, which is sung from the tax collector's point of view. The jabs are clever and succinct ("If you take a walk, I'll tax your feet."), and the musicianship is on point: the song features both a rare McCartney guitar solo, and one of his most supple bass lines. With "Taxman," Harrison's emergence as a formidable songwriting force within the band was complete, and not only did it turn out to be a seminal track from a seminal album, it also became the de facto anthem for one of the most reviled days of the year.
"Here Comes the Sun" (1969)
Of all the songs Harrison wrote and recorded with The Beatles, this one is my personal favorite. It is surely one of his high points with the band. The day he wrote it, he was supposed to be attending a business meeting at Apple Corps headquarters. Instead, Harrison played hooky and went to Eric Clapton's house, where they wandered around the garden together, noodling away on their guitars, until this song began to take shape. Thank God he decided to take the day off: Harrison cemented his Beatles legacy on yet another seminal album by the band, and the world got one of the loveliest, most upbeat songs ever recorded about both seasonal and personal renewal. If that's not a ringing endorsement for taking a personal day every now and then, I don't know what is.
"Run of the Mill" (1970)
1970 was a notorious year for The Beatles: the band officially broke up, but still managed to release two albums anyway; and, all four members started releasing solo albums of their own on top of that. Harrison's solo debut, All Things Must Pass, was a massive triple LP stockpiled with songs that never made it onto any Beatles albums. "Run of the Mill," which closed out the first LP, highlights both the band's end stage acrimony and Harrison's emerging spiritual philosophy. As he writes in the opening lyrics:
Everyone has choice
When to or not to raise their voices
It's you that decides
Armchair psychologists have been interpreting this song for decades, but one thing seems clear: the business of being in The Beatles had taken its toll on Harrison. On the flip side, a creative detour he'd taken to visit Bob Dylan and The Band in Woodstock back in 1968 had also made an impression: their mojo had seeped into Harrison's songwriting, and "Run of the Mill" is a lovely, elegant example of the gestalt of those experiences during that turbulent time.
"When We Was Fab" (1987)
During the early 1980s, Harrison put his music career on hold while he explored other interests (like becoming a well-respected movie producer). But. by the second half of the decade, he was ready to jump back into the pop music fray. He recruited Electric Light Orchestra ringleader (and Beatles superfan) Jeff Lynne to co-produce a new album: the result was Cloud Nine, his strongest solo effort since All Things Must Pass. One of the standout tracks was the overtly Beatlesque "When We Was Fab," a tribute to his days in the Fab Four. Things come full circle for Harrison here: he subtly references one of his former hits while waxing nostalgic about the good old days ("Back when income tax was all we had"), and Ringo Starr shows up to plays drums (both on the track, and in the accompanying video). Harrison sounds like he's having more fun here than…well, since "Long time ago when we was fab," as the song goes, and the same can be said about the entire Cloud Nine album. It was a happy return to form that thrust Harrison right back into the spotlight.
"Handle With Care" (1988)
One year after the release of Cloud Nine, Harrison and Jeff Lynne unveiled their second collaboration together: The Traveling Wilburys Vol. 1, the surprising debut of the eponymous tongue-in-cheek supergroup, which consisted of Harrison, Lynne, Tom Petty, Roy Orbison, and Bob Dylan (all under assumed band identities). As the acknowledged leader of the group, Harrison wrote the music for the band's debut single, "Handle With Care," then tag-teamed the lyric writing with the rest of the group around Dylan's kitchen table. Working with a crew this strong (and, also, as a graduate of the Fab Four finishing school), is it any surprise that "Handle With Care" turned out to be one of Harrison's strongest post-Beatles tracks? Whether he liked it or not, the former Beatle thrived whenever he worked with artists who were at least as good as him (if not better), and the entire Traveling Wilburys project was (and still is) a glorious, delightful reminder of that.